Wind Financial Terminal
The All-in-one Financial Software for Global Data and Information
WFT is a powerful financial software and indispensable business partner to global financial institutions, investment and research firms, corporates, government authorities, and media etc., providing global financial data, information and insights on all asset classes such as equity, bond, futures, FX, fund, index, option, commodities, as well as commercial data in macroeconomics, industry sectors and corporate operations. WFT provides 7 / 24 / 365 real-time information of global markets to keep you updated with latest market trends, financial opportunities and competition.

Download APP
Equity
Cross-market stocks with detailed fundamental data
We cover stocks from mainland China, Hong Kong, Japan, Korea, Singapore, Taiwan, the U.S., United Kingdom, Germany, France and other 40+ global exchanges, with comprehensive information including basic company profile and financials, IPO, refinancing, dividend, announcements, earnings forecast, etc.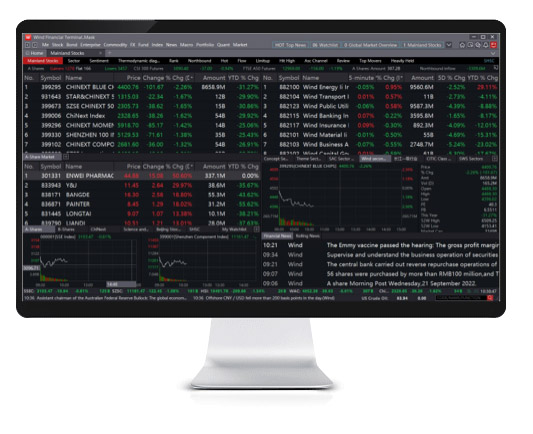 Bond
Various data sources for all instruments, including CFETS, interbank, brokers and market makers
WFT tracks fixed income market with real-time trading data, covering bond, money market, government bond futures, asset-backed securities, convertible bond, notes, interest rate swap, bond index and Chinese off-shore bond. We provide comprehensive bond information around news, research, market quotations, credit risk management, hot bond, calculator, third-party valuation data and yield curves etc.
Commodity
Global Commodity, Spread Monitor
We provide market quotations from 23 major commodity exchanges globally to support monitoring of all kinds of spread trading in various duration, classes and markets; 6 powerful analytical tools offers real-time update of the fundamental data of global commodities.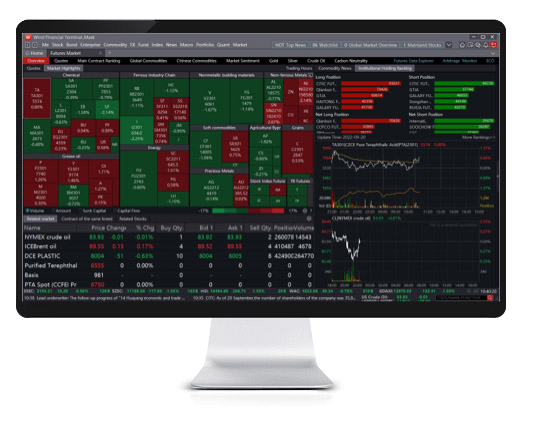 FX
Real-time interbank trading data
WFT aggregates real-time and historical market quotes from CFETS, NEX on spot rate, forward rates and swap rates, closely monitoring market movements of global major FX instruments, historical performance etc. It covers global economic calendar, latest actions of central banks, live news and FX information to help you explore opportunities and manage risks efficiently.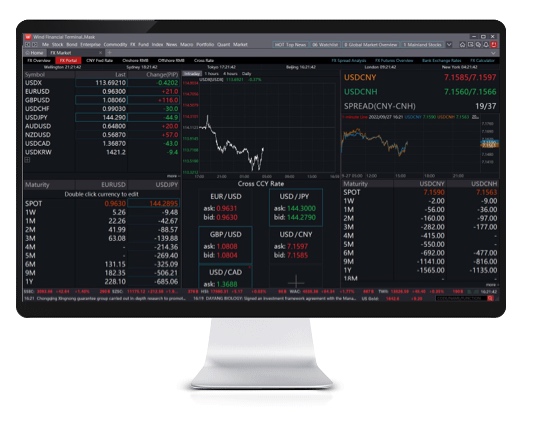 Fund
One-Stop Fund Research Platform
WFT covers data and information of public funds, private funds, broker asset management products, bank wealth management products, trusts and insurance products etc. It allows you to comprehensively evaluate fund performance from all dimensions, by providing functions and tools such as fund overview, fund finder, mutual fund data explorer, fund comparison, fund manager comparison, fund company comparison and various statistical reports.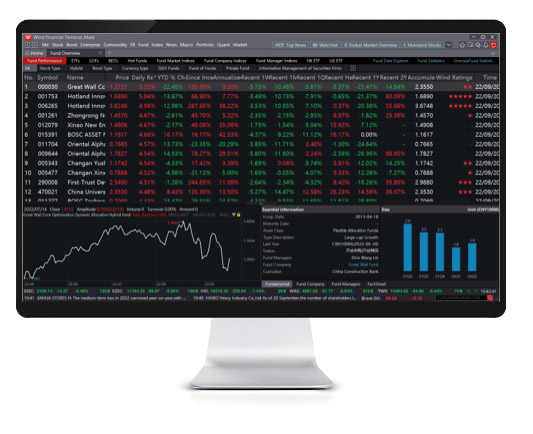 Index
Global Index Explorer
WFT covers 100+ China and global market related indices, including global index such as MSCI, FTSE Russell and S&P. It provides detailed information and index analysis such as composition and weight, return and risk, valuation forecast, index comparison, etc., and supports customized index calculation.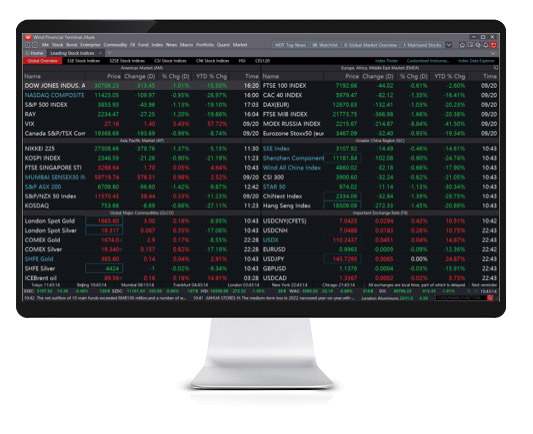 Portfolio Management
Professional platform for portfolio management and risk analysis
Wind's portfolio management module supports asset management of all instruments and asset classes, providing powerful portfolio monitoring and analysis functions to track live profit and loss and risk indicators of the portfolio, with easy-to-understand graphics and visual reports.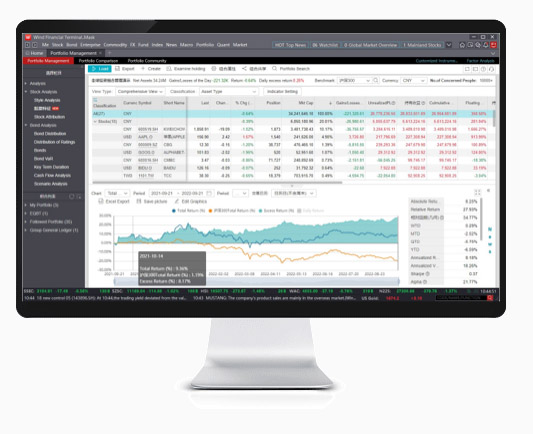 Macro Industry
Best-in-class global macro and economic database
Provides access to over 8 million indicators across over 200 countries and regions, provinces, districts and counties globally; Supports 2,000 presentation templates.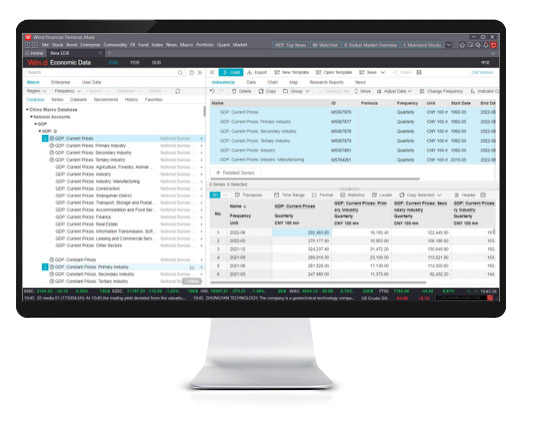 News and Research Report
Real time news and in-depth research
Tracks real-time news 7x24 from 180+ financial media and 200+ industry websites; Operates a world-class professional and compliant research platform with extensive partnership with over 50 leading brokers and research institutions to distribute their latest research reports under official authorization.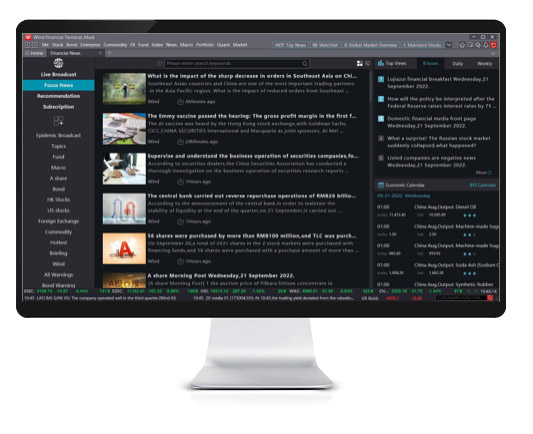 Excel Add-in
The Excel add-in to solve your personalized applications
The powerful Excel add-in and data link function is convenient for users to dynamically obtain real-time market, financial data, macro, industry and other data, and build various flexible analysis templates.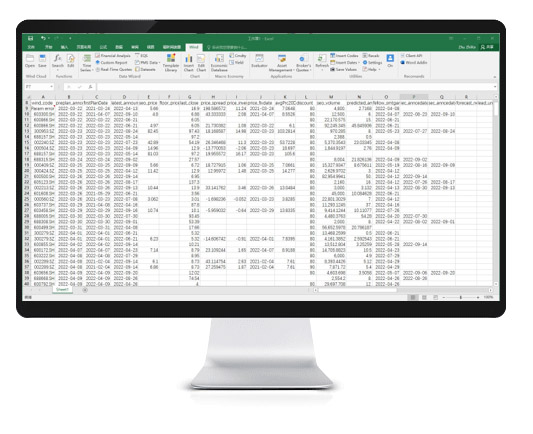 Client API
Benefiting from Wind Client API, you are able to securely and consistently access database, build data-rich models, and handle business issues from any internal or third-party application. Whether you're an analyst, trader, portfolio manager or software engineer, Wind API will assist you in achieving career excellence simply through few lines of codes.
see details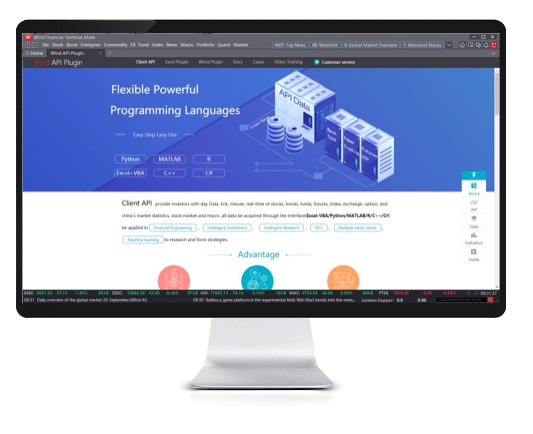 3C (Content, Conference, Community)
Wind 3C is one of the most professional and popular content and conference platform in China for financial professionals to broadcast and listen to the latest market views. Each year, tens of thousands of analyst roadshows, results announcements, earnings calls, fund roadshows, forum and summits as well as financial news broadcasts are held on this platform and joined by over 3 million institutional investors and financial market participants.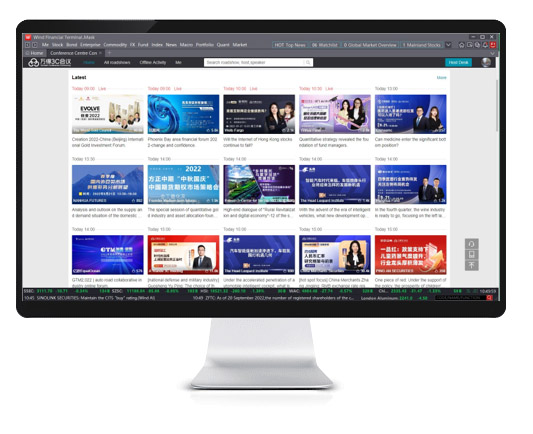 Preferred APP For Financial Professionals
As an extension of financial terminal services, the mobile version also provides global financial market conditions, real-time news, in-depth data, research reports, portfolio management, profit forecast and other services, to escort your mobile investment decisions.The Wind mobile terminal supports full platform operation. You can access the Wind mobile terminal on Windows, Mac, mobile phone, or Pad anytime and anywhere.